Your Trusted Roofing Company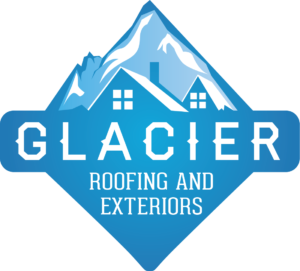 Glacier Roofing and Exteriors is your full-service exteriors company serving customers in the Inland Northwest all the way to Western Montana. With over three decades of combined experience, our residential and commercial roofing contractors work with business and property owners confidently.
It's our mission to provide quality roof repair and replacement services, as well as excellent customer service in the NW United States. Our residential and commercial roofing services are the best around, and we would love to serve you in your next project! 
Don't wait to contact us and schedule a free inspection and estimate! We're the  roofing contractor you can count on-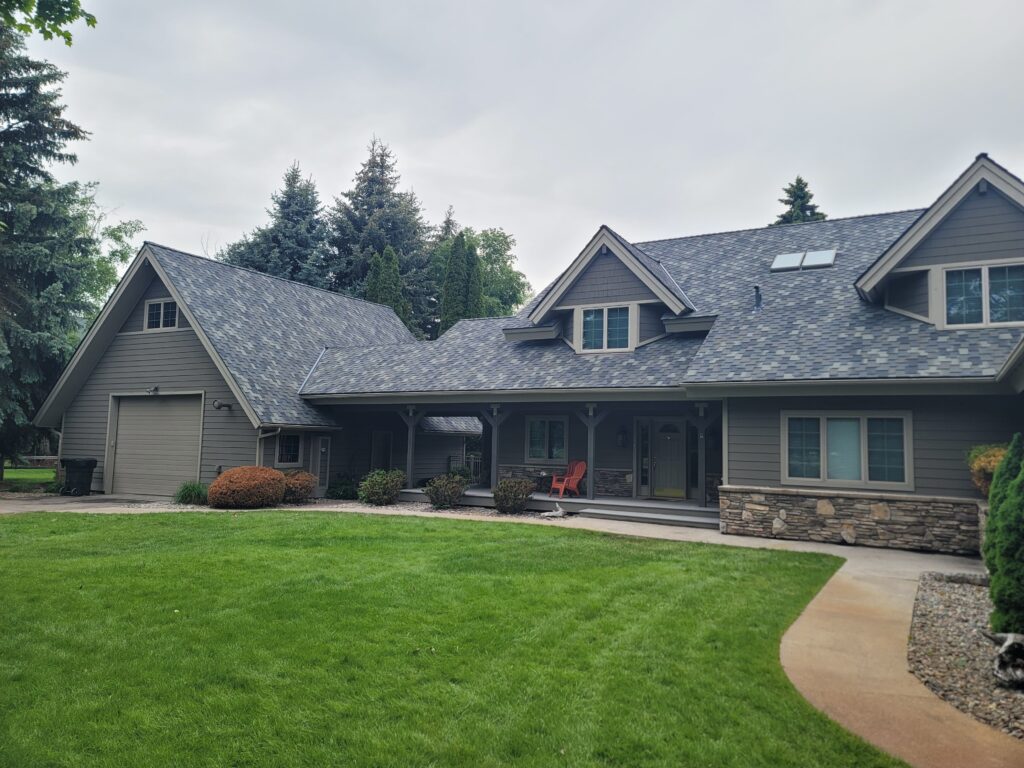 Leading Roofing Contractors
Glacier Roofing and Exteriors is your leading roofing and exteriors team. We help home and business owners with roofing, siding, exterior paint, windows and more! Licensed, bonded, and insured for your protection, we have years of experience in the roofing and exterior industry.
Our Professional roofers pride themselves on their top-quality service and dedication to the community. It all starts with a free estimate. Your Glacier representative will give you all the information you need to make the best decision for your home or business and your budget.
Whether it's from old age, storm damage, or inadequate product, roof replacement's are necessary to maintain the protection of your home.
Glacier Roofing & Exteriors aims to provide its customers with access to the best material and service team. Through this we can minimize the amount of times a home or business owner has to replace their roof.
We offer a variety of popular and sustainable materials to choose from when you're ready to replace your roof.
Our team can help you replace your –
Clay tile roofing
Asphalt shingles
Wooden shingles and shakes
Metal Roofing
Your Glacier representative will do an onsite FREE inspection, and help you determine the best new roofing system for your home or business.
Reach out today!
As a business owner, you take pride in the image you present to the community. Making sure your establishment is safe for customers, protects your operations, and looks appealing is important to your success. It is also important that your roofing project goes as smoothly and efficiently as possible to minimize the down time and disturbance it has on your business.
Glacier Roofing & Exteriors has helped hundereds of business owners complete their re-roofing project, and would love to add you to the list!
Schedule a free inspection today!
Replacing your home's siding is a great way to boost curb appeal. Glacier offers siding and exterior services to boost your property value while also reducing utility costs.
We offer a superb range of siding materials, from affordable vinyl to first-class Hardiplank products.
The attic plays a major role in both the safety of your roof and the cost of your monthly utility bill.
Without proper insulation, you could be losing hundreds of dollars annually to hot air escaping, meaning you need to crank the thermostat up.
Improving your attic insulation is the easiest and most cost-effective way to drive down those energy bills and have greater control over your home's internal temperature.
Our contractors will handle the installation of your new insulation from start to finish – we can recommend this alongside our affordable replacement window service. This will improve your home's ventilation and enhance your roof's ability to keep things warm in winter and cool in summer.
We have decades of experience handling storm damage insurance claims. This means we will work with you and your insurance to get the maximum settlement. Your contractor will be by your side at every step of the process.
Working with a professional contractor ensures your insurance adjuster understands the damage done to your property in full and you get the settlement you deserve. We've been helping homeowners and businesses with insurance claims for years – call us to learn more!
Are you considering adding skylights to your home? Are your windows letting in cold air in winter?
Our replacement window service is what you need.
We can install new windows as part of your home remodeling project at an excellent price. Why work with several contractors when you can trust Glacier with your entire project? We're the local experts you need.
Your roof, siding, windows, and gutters can all be affected by seasonal storms.
That's why having your home inspected by an experienced roofing contractor following a storm is essential.
The Inland NW & Western Montana see its fair share of snow, wind, and rain that can damage the roof of your home or business. You should contact our roofers to maintain your roof throughout the year and have a contractor from our team inspect your home after every big storm.
We offer gutter installation services – these are part of the package when you install a new roof.
Gutter systems are integral to your roof, allowing rainwater and other debris to drain off the surface. They also prevent drainage issues and water damage when they are properly maintained.
Adding effective gutters to your home or business protects every component of your roof system.
It will also help keep the interior of your home dry and free of mold and mildew.
We understand that the aesthetic of your home is important to you. 
That's why we use high-quality exterior paint from Sherwin Williams to create a lasting look that resists harsh weather and improves your curb appeal. 
"Integrity Over Everything"
At Glacier Roofing & Exteriors, we pride ourselves on more than just being good at our trade. We aim to serve our customers in such a way that we continue to earn their business even after the contract has been signed. 
Our Branch Locations and Service Areas
Our Values as a Roofing Contractor - Building Trust, One Home at a Time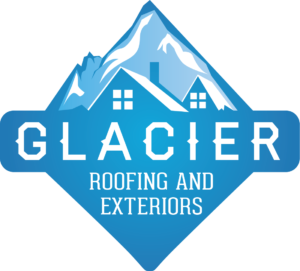 At Glacier Roofing and Exteriors, our roofing contractors pride themselves on their experience and ability to meet the roofing needs of all our customers in the Inland NW and Western Montana.
Whether you're a homeowner or a business owner, we have a contractor who can complete the job. No job is too big or too small for our roofing contractors.
We work hard to provide homeowners and business owners with the professional, courteous service they deserve. Every contractor on our team operates with integrity and you'll be shown full transparency from the beginning to the end of construction.
Our projects are completed through quality-focused construction and adhere to the highest standards in all our services.
Contact us to get started!
Start With a Consultation and Free Estimate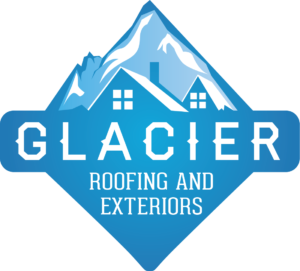 A major roofing project, such as a replacement, can be pricey. But we provide all customers with an accurate estimate before getting started. We can assist with insurance claims, and do have a financing company that can work with you privately.
Our roofing contractors offer the inspection at no cost to you. At this appointment, you can expect an honest "roof health" report and obligation-free advice. We're here to see your project through to completion at a reasonable price, whether it's minor roof repairs or a full exterior remodel.
The roofing professionals at Glacier are ready to start your next project – contact us to learn more about our roofing services now!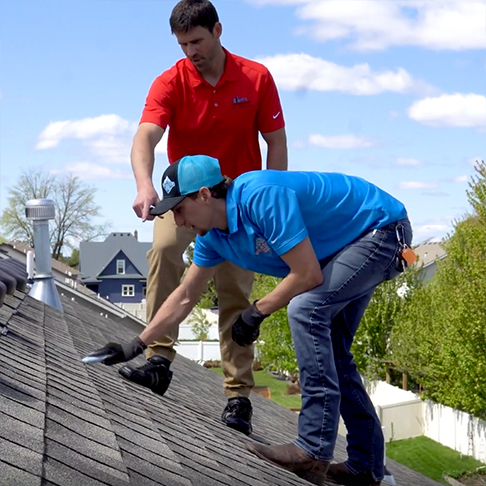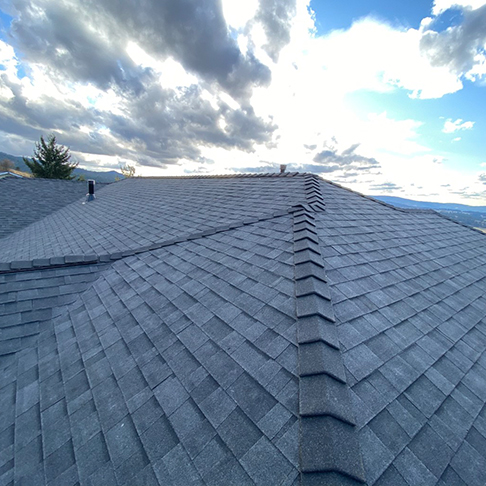 The Roofing Company You Need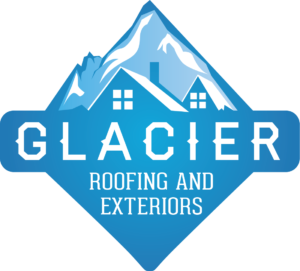 Glacier Roofing and Exteriors is a family-owned and operated business. We're dedicated to providing quality service and customer satisfaction throughout the Spokane area.
We pride ourselves on providing customers with high-quality materials and roofing services when it comes to maintenance, repairs, or re-roofing their house. Whether you are looking to replace your old roof or renovate the exterior of your house, our team in Spokane, WA, is here to help.
Our roofing contractors have been serving Spokane customers from Liberty Lake to North Idaho to Western Montana for decades with professional services led by quality, integrity, compassion, and dedication to the community.
Contact us today to schedule a free roofing inspection and estimate!
Why Home & Business owners Choose Glacier Roofing & Exteriors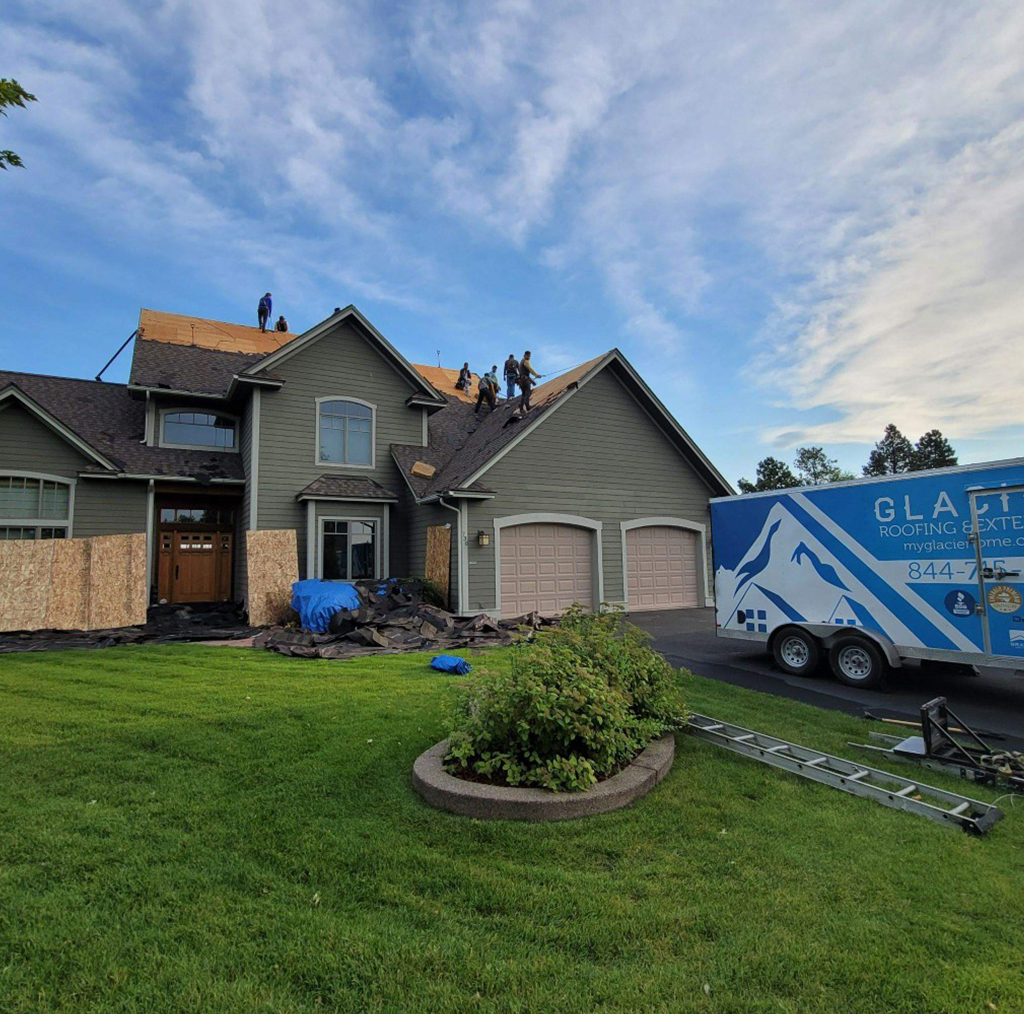 Trusted by Thousands of Property Owners

I could not be happier with how Glacier Roofing worked with me.
I had a fast close when I found out the property needed a roof, I wanted a quote before we finalized numbers. This team was able to show up same-day (unheard of) and gave me two quotes to choose from, with different materials in each. Read More
Glacier was recommended to us by a family friend who is a GC, and we couldn't be happier. Our project manager (Drew) was very friendly and helpful, and came out to recheck for gaps in the sheeting before we had even agreed to the job. Lots of communication from him at all stages of the project, so we always knew what was going on, even if it was just waiting for materials. Read More
"Glacier Property Solutions replaced our roof after the wind storm in 2020. We got several estimates, but Glacier stood out in every way. Mainly, the way they answered every question, their estimate was clearly explained and written out, and always responded promptly. They worked seamlessly with our insurance company and everything and more was completed. The very best part was the roofing team that had experienced, professional, hard workers and the result was a beautiful roof that will last another 25 years. We will definitely use Glacier Property Solutions when anything else needs repair on our home!"
First time using Glacier, I am as a Real Estate Professional and they exceeded everything I had needed in a roofer. The calls to my clients were VERY professional. The workers did a great job cleaning up all the shingles from the yard and got the roof completely done in a timely manner. Ryan is so great at communication and explaining everything to my clients and myself, and he calls you back quickly. HIGHLY RECOMMEND Glacier Property Solutions for all your roofing needs!!
Glacier redid a roof on our block that looked great; and they happen to send us a piece in the mail as we were settling with Allstate on our damaged roof. Their good timing turned out to be a great new roof and gutters for us.They were always quick to get back to me, and their assessment of the roof showed a little more work (including the damaged gutters) than the Allstate adjuster had shown. Read More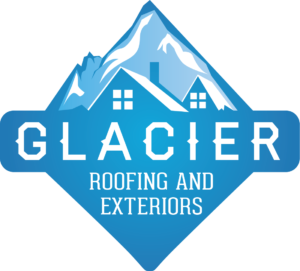 As your region's top contractor who focuses on craftsmanship, quality, honesty and only using the best products available, we are proud to hold top awards and certifications from many of the industry's most recognized organizations.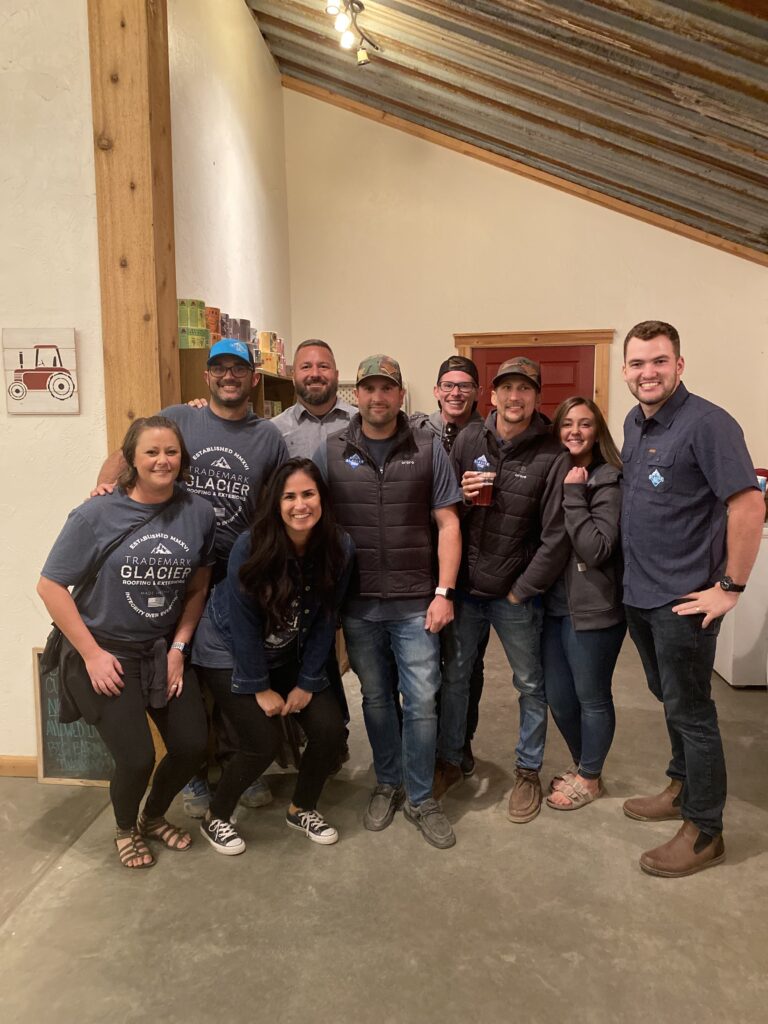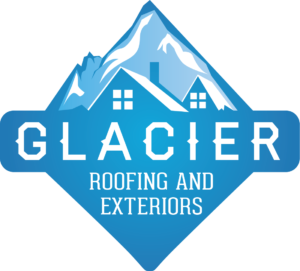 We truly are grateful for the opportunity to help improve, re-construct, or remodel your home or business. We have been working, learning, and developing key relationships in the home improvement/reconstruction industry through the past two decades. In 2015, we established Glacier with a specialized focus on re-roofing, exteriors, and reconstruction projects.
At Glacier, we are a family-owned and operated company founded on doing what is right for others, not for self. We do our projects through quality-focused reconstruction practices and adhere to the highest standards. We share a common vision of impeccable service through Quality, Integrity, Compassion, and being Community focused in all we do. We do our projects through quality-focused re-construction practices and adhere to the highest standards. In fact, we are quite particular about what we put back on your home or business, knowing that the lower-priced products won't save you money in the long run. 
Glacier Roofing and Exteriors is a roofing and exterior restoration company headquartered in Coeur d' Alene, Idaho with Regional locations in Boise Idaho, Kalispell, Montana and Missoula Montana