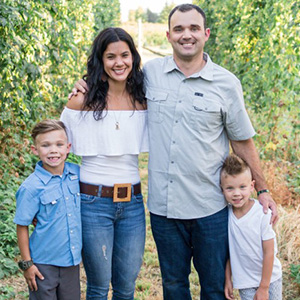 "I came from a family farm/ ag background, and 'slacking off' was never an option for us growing up. The industry was in front of me in college and 'fell in my lap' a couple of years after college. After over a decade of building and managing property owners' projects, I still love to see how we take an old worn-out home and turn it into a homeowner's dream."
Hometown: Albion, Nebraska

Hobbies: My Wife & 2 boys, mountain biking, camping, skiing, college sports, and picking (yes, like American Pickers – cool stuff).
Favorite Quote: "Some people want it to happen, others wish it would happen, others make it happen." – Michael Jordan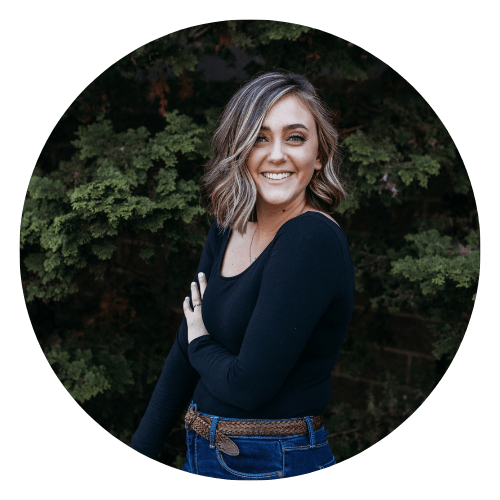 To me, marketing is the perfect blend of creativity and strategy. The overarching goal is to create messages that people want to hear and convey your business to the public in a way that aligns with your mission. I love my job at Glacier because our message is simple, we want to serve you with integrity. There are no pushy sales pitches, or hidden agendas. I believe in our purpose and being able to share that with our customers is an honor. I am a Western Washington transplant that moved to North Spokane and never looked back. I am obsessed with my daughter, dogs, and love spending time working on my property.
Hometown: Mill Creek, WA

Hobbies: Reading, gardening, camping, and being a mom
Favorite Quote: "Words are, in my not so humble opinion, our most inexhaustible source of magic, capable of both influencing injury, and remedying it." – Albus Dumbledore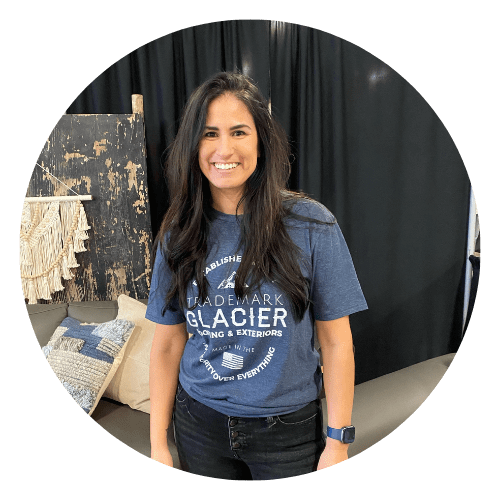 I have always defined myself as a people person. With a background in client relations, I know the importance of a first impression and strong customer service. At Glacier, I love that I get to be the first point of contact for our customers. It gives me the opportunity to set the tone for the rest of their experience with us. I also love the progressive approach we take in the industry. As a team, we are always trying to be better today than we were yesterday. It is challenging and ever changing which ensures that every day is different.
Hometown: Dont hate me, California (Sacramento)
Hobbies: Watching my husband play in his band, working out, kayaking, camping, winter hibernation
Favorite Quote: "Be thankful in all circumstances." – 1 Thessalonians 5:18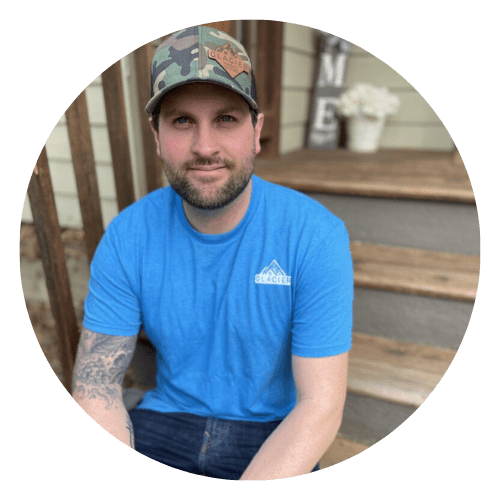 I grew up hunting and fishing with my dad, who taught me the true value of happiness and hard work. I have a wife and two kids, who I plan to instill the same kind of work ethic into. I have spent the last 15 years working at Whites Boots, first building boots and then moved up to running their factory, which has taught me so much and has set me up for my next adventure. I came to Glacier just a short time ago, but I have found where I belong in the short time I have been here. I am thankful to be with Glacier, a family-owned company that values hard work and makes sure to always put their customers first.
Hometown: Spokane, WA
Hobbies: Fishing, hunting, dirt bike riding, camping, and anything
Favorite quote: "You only get out of life, what you are willing to put into it."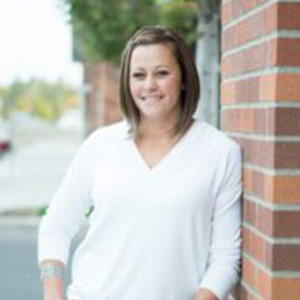 I am a WSU graduate with a Bachelors in Social Science. I have over 20 plus years in Real Estate where I did sales, worked in escrow, and am currently a licensed Realtor in Spokane WA. I am married with 3 amazing kids who constantly encourage me to improve myself and I teach them to work hard and never give up. We also have 2 German Shepherds who love lots and lots of attention and are such great family dogs. I enjoy being challenged and working for Glacier does exactly that! Glacier has an amazing team that greets you like family and has a lot of potential to grow within the company.
Hometown: Spokane, WA
Hobbies:Camping, skiing, kayaking, and going on family vacations
Favorite quote: "Don't judge each day by the harvest you reap but by the seeds that you plant." -Robert Louis Stevenson.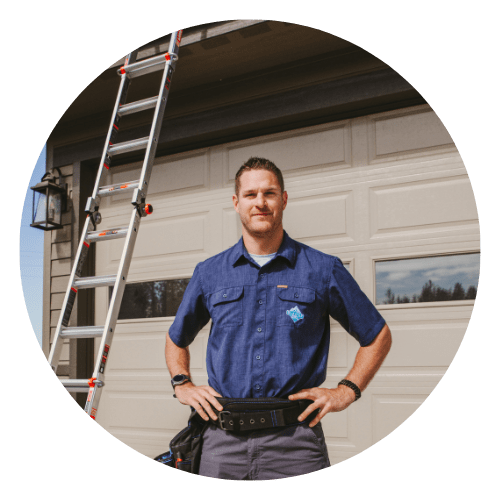 I have been in sales for over 15 years. To date, my biggest life accomplishment is being the father to my two beautiful sons, who make me want to be a better man every day. My goal is to pass on the values of hard work and perseverance that my parents instilled in me. I am grateful to be a part of Glacier not only because it's an excellent company with quality work but also because it's a family-owned company that understands my values and has honesty and integrity at its core.
Hometown: Spokane, WA
Hobbies: Flying, biking, hiking with my family, & spending time at Priest Lak
Favorite quote: "Life's too short to wake up with regrets. So love the people who treat you right, forgive the ones who don't, and believe that everything happens for a reason. If you get a chance, take it. " – Dr. Suess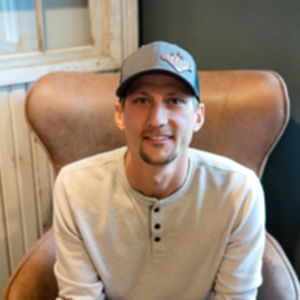 I come from a family that has a never give up mentality. My father was a wrestler and did so all the way through college and was even my coach growing up. I believe my work ethic was built by the foundation taught to me by wrestling. I searched throughout my 20's to find the right path for a career. From a motorcycle mechanic to working in television to construction and owning my own sprinkler company. It wasn't until I started with Glacier Roofing & Exteriors that I found the right path and home for myself.
Hometown: Nine Mile Falls, Washington
Hobbies: Dirt Bike Riding, Hunting, Fishing, Snowboarding, Wake Surfing.
Favorite quote: "If you're not living on the edge, you're taking up too much room." – Paul Norstadt
Originally from Minnesota I grew up learning the value of hard work from my entrepreneurial Father. He taught me that "You are what you do, not what you say you'll do." I went on to earn a Bachelor's Degree in Communication Studies, Marketing and Psychology at SCSU. I've spent the last 13 years in roofing and home restoration. I am married with 7 children and we've also had the joy of being foster parents for many years. We are family focused with our Faith as our guide. I am truly blessed to have an amazing family and a career that I love!
Hometown: Kalispell, Montana
Hobbies: Family Time, Running, Outdoors, Music
Favorite quote: "Thirst was made for water; inquiry for truth." -C.S. Lewis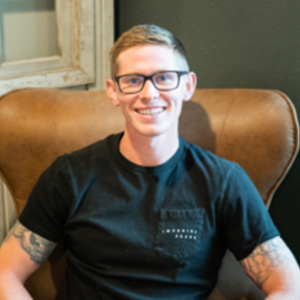 Independent Sales Consultant
I knew someday I wanted to be in sales of some sort. I got my real estate license in September 2017. Shortly after getting into Real Estate, I became a sales rep/project manager for Glacier as a "side gig" I'm now a full-time Real Estate Agent and a full-time Sales Consultant with Glacier. Working with Glacier has opened more opportunities than I would ever imagine. I am truly blessed to be given an opportunity with a company to work hard and grow my business to its full potential.
Hometown: Nine Mile Falls, Washington
Hobbies: I love to dirtbike, snowboard, bike, camp, hang out with family and friends.
Favorite quote: "Fatigue makes cowards of us all. Men in condition do not tire." – General George Patton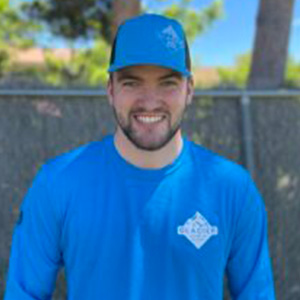 Independent Sales Consultant
I am a North Idaho Native who grew up always being outside. To this day I can't stop moving around whether it comes to work or activities. I am a very passionate person and I strive to put 100% into everything I do. I love selling products that I care about. Getting my Bachelors in History has given me a very thorough research mentality which makes me want to learn and continuously learn more about everything regarding roofing. I come from selling flooring and that is where I discovered my passion for Sales. Glacier Roofing & Exteriors is a family-owned company that provides excellent service, product and a fantastic family like atmosphere. I am very excited to be with this company and to provide amazing service to those who are in need of our services.
Hometown: Post Falls, ID
Hobbies: Biking, vollyball, spikeball, and spending time with family
Favorite Quote:"If you treat a man as he is, he will stay as he is but if you treat him as if he were what he ought to be and could be he will become the bigger and better man" – Johann Wolfgang von Goethe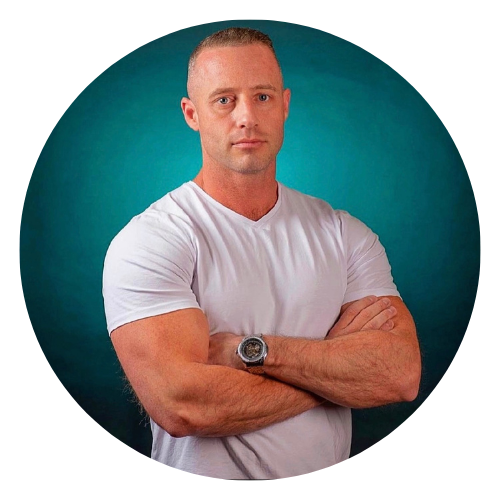 Independent Sales Consultant
I was born and raised in North Idaho and enjoyed riding bulls and farming over the summers growing up here. I spent some years in the Seattle area after high school owning and operating gyms until I recently relocated back to North Idaho! 
My biggest joy and accomplishment by far is being a father to my two kids. 
Coaching their sports teams, traveling with them, and spending time on the water with them are some of my most valued times. I believe you get out of life what you put in. I joined the Glacier team because it's a family owned business with a company culture and value system that aligns with mine. 
I am excited to add value here and serve the customers of North Idaho.
Hometown: Lewiston, ID 
Hobbies: Working out, snowboarding, coaching, boating, golfing
Favorite quote: "Personal excellence is the ultimate rebellion." -Andy Frisella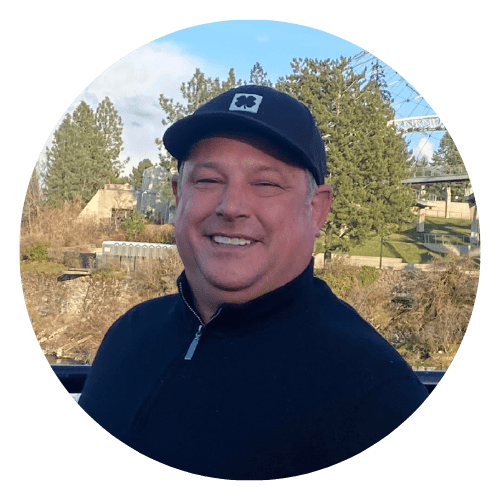 Independent Sales Consultant
With over 20 years of experience in project management, sales, and entrepreneurship, I was so excited to come across the independent sales consultant opportunity with Glacier. After selling my last business, I knew I wanted to focus more on direct customer interactions and be out in the sales field. 
Being raised in Coeur d'Alene, I take pride win the community in which I will be serving and am very familiar with the local landscape. I look forward to helping home and business owners in my community through their roofing & exterior projects. 
Hometown: Coeur d'Alene, ID 
Hobbies: Exploring the great outdoors, trying new recipes on the smoker, attending sporting events, golfing, and spending time with family & friends. 
Favorite quote: "Do not let yesterdays' stress affect todays success" – Unknown