Coeur D'Alene, Idaho LOCAL ROOFING CONTRACTOR
Your Coeur d'Alene Roofing Company
When you need roofing services in Coeur d'Alene, ID, it's best to go local.
Coeur d'Alene is Glacier Roofing and Exteriors' home. It's where we started out, and where we've been serving our customers for the longest. 
Whether you are a home or business owner, our roofing contractors are ready to start on your project. Let us know the details and we'll help you work out a solution for your roof that is cost-effective, boosts the curb appeal, and stands the test of time.
Your Local Idaho Roofing Contractors
Our roofing contractors have completed thousands of projects around Coeur d Alene and North Idaho. Our customers choose us time and time again – here's why.
Highly experienced roofing contractors. All our roofing contractors are experienced, properly licensed professionals who can guarantee you the finest exterior renovation. We have done over 12,000 projects in your area, and would love to help you next! 
Unmatched customer service. Our roofing contractors are courteous, friendly locals – we're always quick with a reassuring word and a smile. We understand that re-roofing your home or business is stressful – we're here to help.
Projects completed in a timely manner. We set accurate timelines as a roof construction contractor and stick to our schedule. You'll be kept updated throughout your project and can expect full transparency when you hire us.
Full-service exterior general contractor. We can take care of more than just your roof – we can do excellent work all around the exterior of your house! Whether it's siding, repainting, or windows, our professional roofers have a skill set unmatched by other pros in Coeur d'Alene, ID.
Affordable pricing. Our goal is to ensure that every homeowner and business in the Coeur d'Alene area can afford the top-quality roofing job they deserve. 
Get in touch today!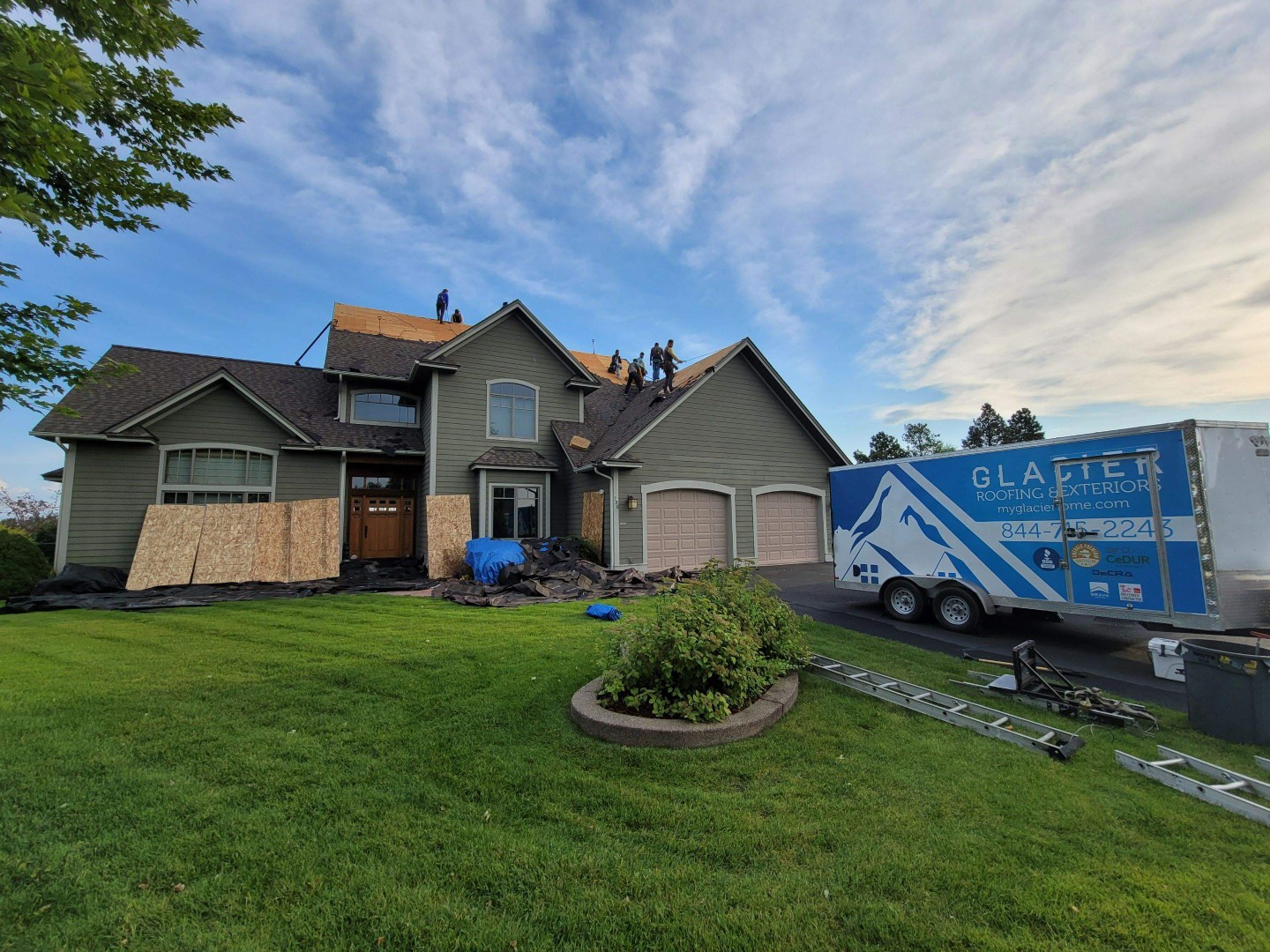 Our team offers a host of external roofing and exterior improvement services. We also pride ourselves on using the finest materials to ensure our Idaho and Washington neighbors are protected by the best roofing products – installed by the best contractors.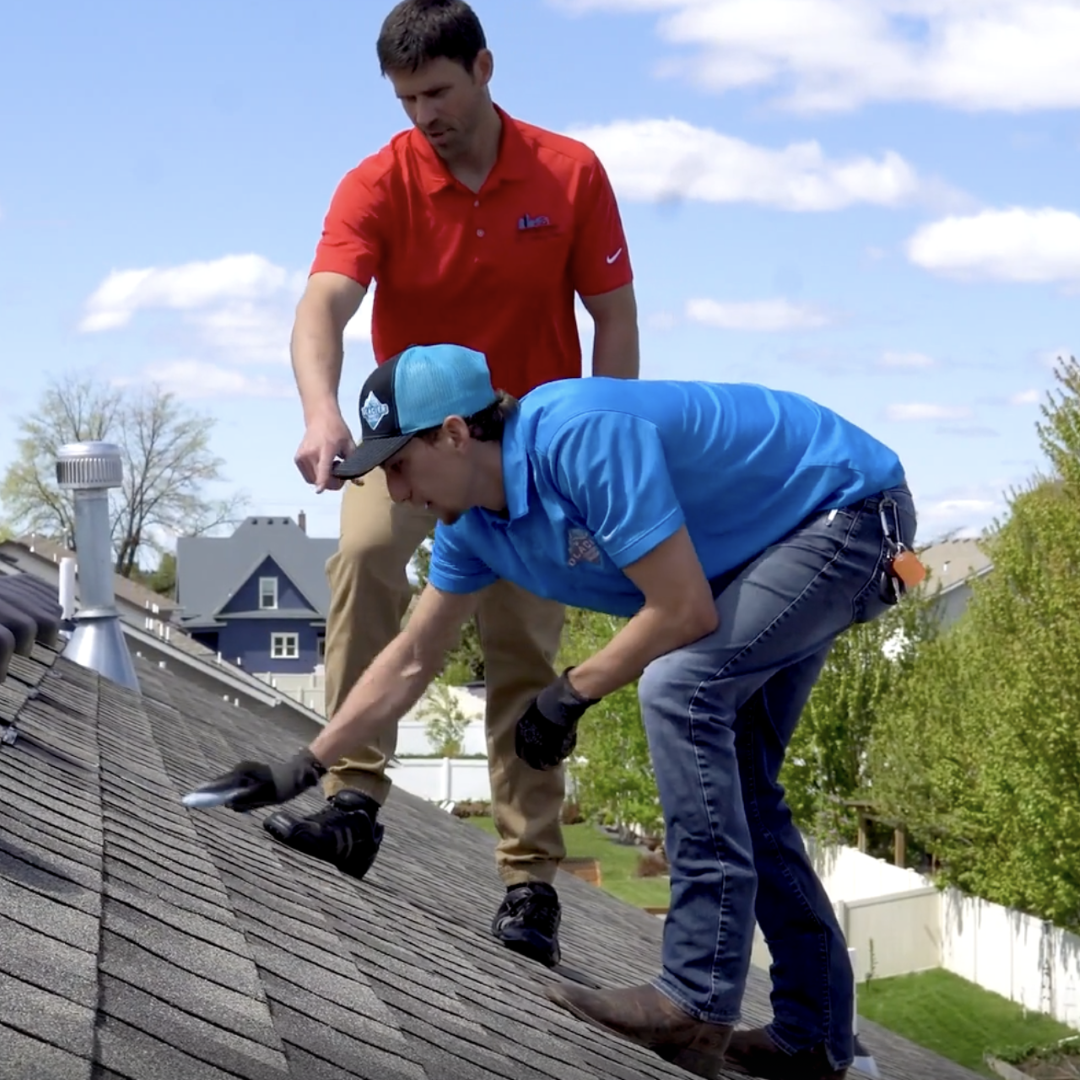 Does your house or business need a new roof? Our roofing contractors can walk you through the best materials for your roof replacement and help you make the smart choice.
Asphalt shingles are a popular classic. We also specialize as metal roofing contractors – this is perfect for business customers or anyone looking for a roof that will stand up to the PNW climate.
Other popular options include concrete tile, composition shingles, and stone-coated steel. Our roofing contractors will offer a full consultation before we begin the job to ensure you're 100% delighted with your choice.
Contact us now for a quote!
Affordable and reliable roof repair should be available to everyone – it's our mission to ensure that every home and business in our service area is properly protected.
Our roofing contractors keep costs down on our repair service as much as possible to ensure you're not left struggling after your property suffers storm damage or leaks. Our professionals can also help you with insurance claims in Coeur d'Alene, ID – see below.
Our roofers are here to protect our community and keep our neighbors safe. We're the general contractor to call when you need swift, affordable roof repair services.
Call us or book online to schedule service!
Our roofing contractors work closely with local business clients to ensure your property is fully protected with minimal inconvenience to your customers.
We offer a variety of options when it comes roofing products. Your Glacier representative will help you evaluate your options, and make the right decision for your business. 
Reach out today and schedule your FREE initial inspection. Let's get your business performing at 100%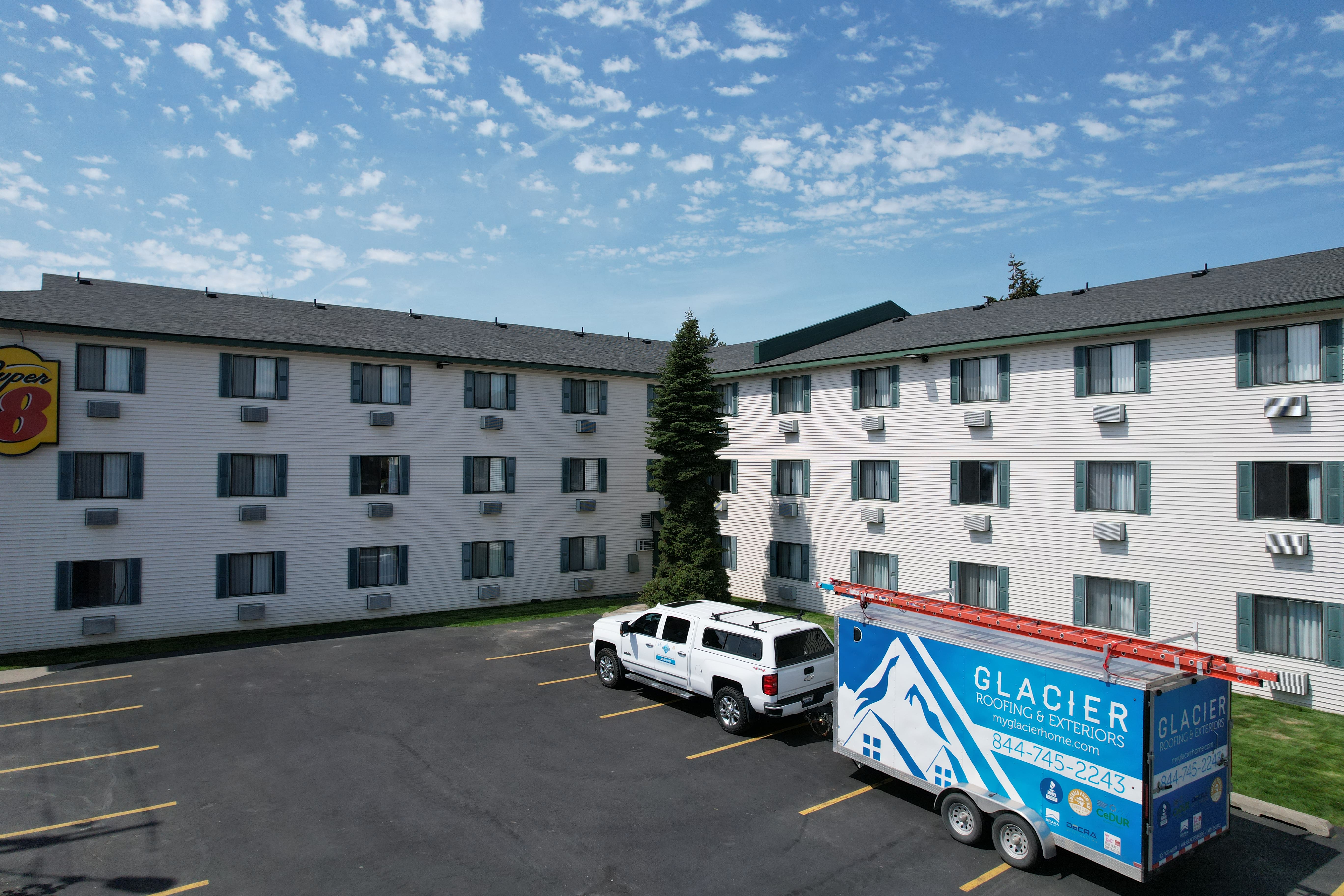 We're a specialist roofer for insurance claims in Idaho, Washington, and Montana.
When you call our roofing contractors before making a claim, our professionals will fully document the damage with photographs and a complete report. We'll ensure that your insurance adjuster understands the full cost of repairs or construction for a roof replacement and that you get every cent you're owed for your claim.
We're the general contractor and construction industry specialist you want on your side when you need to make a claim.
Call us to learn more.
Glacier wants to let a little light into your life! We install high-quality windows, including skylights, as part of our services.
Improved windows can lead to significant energy savings and enhanced curb appeal. You'll also be delighted to get rid of those annoying but minor issues that feel too small to fix – that handle that sticks or that lock that doesn't feel like it's fully secure.
Our professional contractors can take care of your full exterior remodeling project from the roof down.
Contact us to get started!
Poor insulation is one of the leading causes of high energy bills in the US. A badly insulated attic makes it much harder to keep your home at the desired temperature – outdated insulator materials can also be hazardous to your health.
Our roofing contractors re-insulate buildings in Coeur d'Alene, Post Falls, Spokane, and the surrounding area. It's an affordable service and a quick job – time to schedule a visit!
We offer siding services to homeowners and business clients as part of our full home exterior renovation services. 
Learn more about our materials and the job we can do for you – contact our professional roofer team now!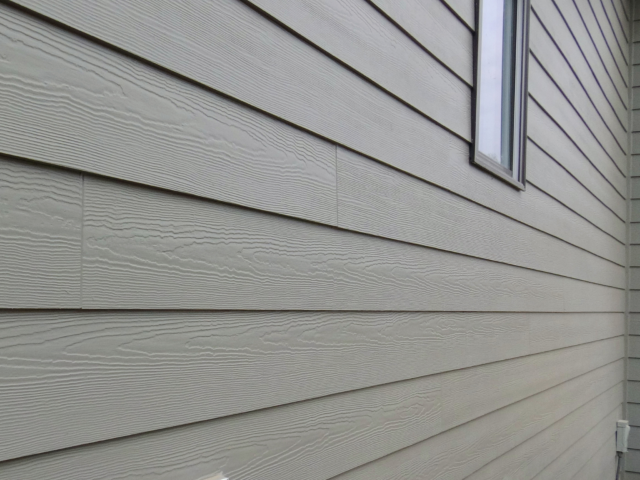 Our roofing contractors offer gutter installation alongside new roof projects. We don't clean or repair old gutters, but we can upgrade your gutters along with the rest of your roof when you schedule our services.
Get in touch to learn more!
The best roofing contractors work with the best products – that's how we guarantee the best results for homeowners and business clients in Coeur d'Alene, ID!
Want to learn more about our materials? Contact us for a full discussion and personalized recommendations!
These shingles are the roofing industry standard, and for a good reason – they're durable, look great, and have a lower price tag than other roofing materials.
Of course, it matters which shingle manufacturer you work with. We're a Malarkey Emerald Premium Contractor and an Owens Corning Preferred Contractor and can offer excellent warranties on products from this leading manufacturer!
Metal roofs are increasingly popular across Idaho and Washington because they're such a great line of defense against the unpredictable weather. Metal residential and commercial roofing offers incredible durability and a long life compared to regular shingles. While the initial price tag can feel like a shock, you dramatically decrease the amount of future roofing projects you will have to undergo.
Composite shingles are a great way to achieve a gorgeous, natural-looking roof at a low cost. Our roofing contractors often recommend these for rustic homes.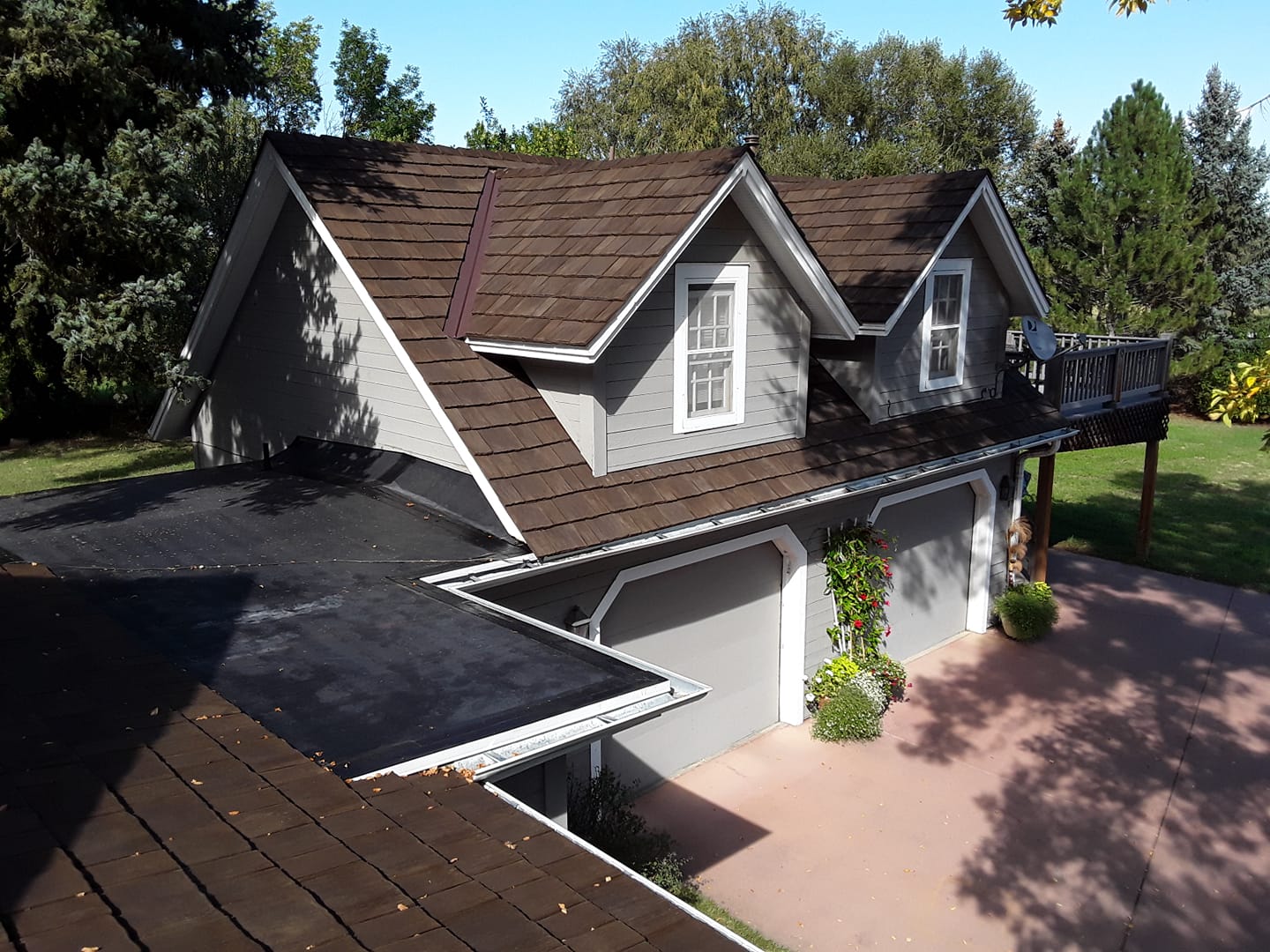 Incredibly hard-wearing, stately, and surprisingly affordable – stone-coated steel is becoming increasingly popular among commercial roofing contractors due to its combination of beauty and toughness.
Whichever material you choose, you need to work with experienced contractors to guarantee the best results.
Our team will prepare your home's exterior and offer advice before we begin construction – we can help you protect your decking and garden from dust and debris. We clean up after ourselves, but our roofing contractors believe it's right to help homeowners prepare for a construction project before we begin!
Top-quality materials. Reasonable costs. The best general contractor in Coeur d'Alene, ID.
Contact Glacier Roofing & Exteriors today!
Why Choose Glacier as Your Roofing Contractor in Coeur d'Alene, ID?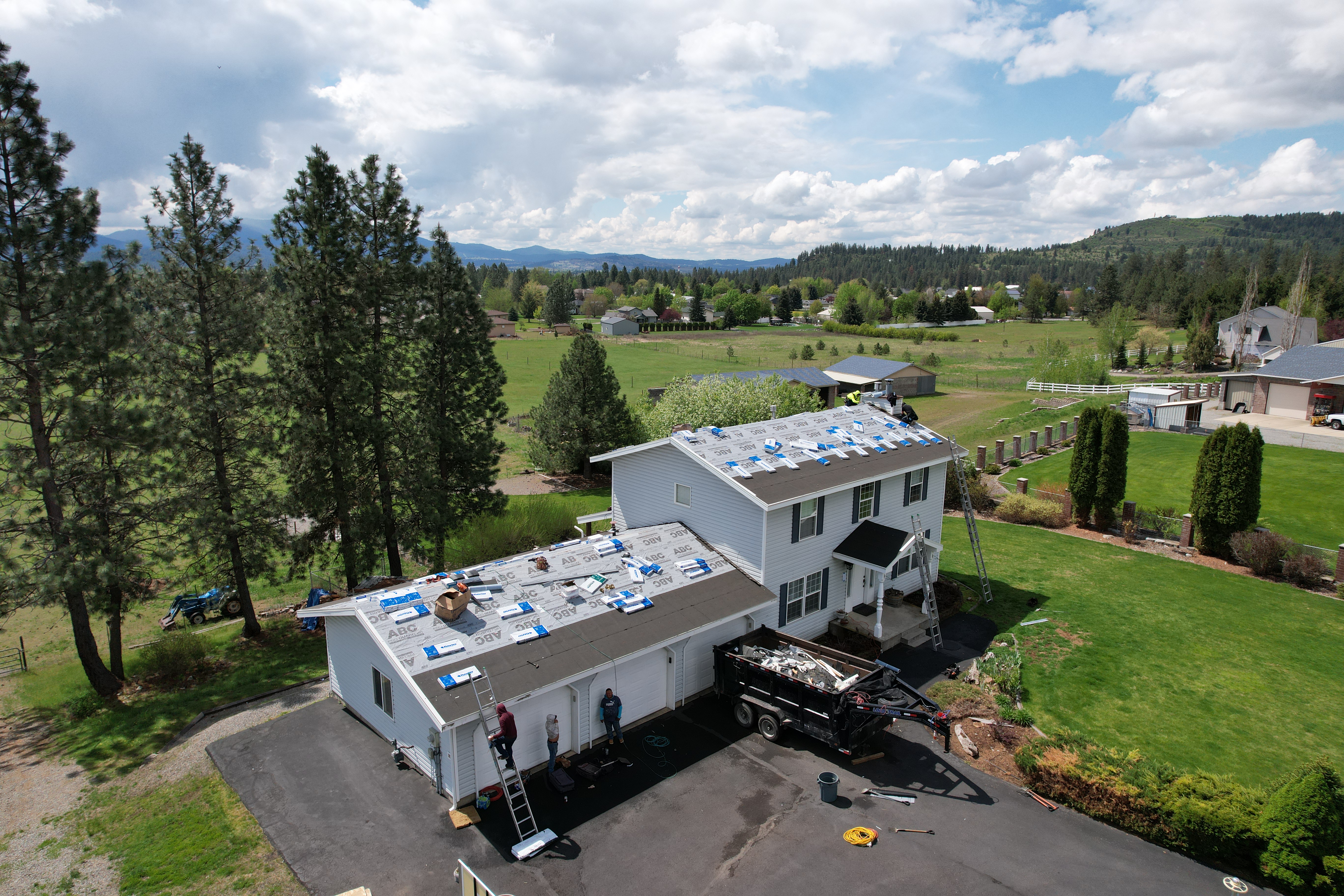 We're Worked on Thousands of Projects for Local Homes
We've delivered countless successful roofing projects for our clients in Coeur d'Alene and across the surrounding area. Just check out our gallery and customer reviews – from tear-offs to full exterior remodeling projects, we have a proven track record of delighting our clients.
Our roofing contractor team is ready to offer you the same – get in touch!
General Contractor, Personal Service
We're a general contractor by trade, but helping our neighbors is instinctive. There's nothing general about the service you'll receive when you hire us – your comfort and satisfaction is our priority.
Accredited by the Best - Loved by Our Customers
We're rated A+ by the BBB (Better Business Bureau). This is backed up by our many 5* customer reviews on the BBB website and Google – we stand by our work and we don't settle for second best.
We're also a Malarkey Emerald Premium Contractor – only 1% of roofing contractors in the state receive this award.
Need more proof? We're Owens Corning Preferred Contractors, meaning we can offer amazing warranties from the nation's two most-trusted shingle manufacturers.
Work That Lasts, Prices You Can Afford
Our contractors never deliver subpar results on your roof, and we don't believe that anyone should be priced out of first-class roofing services. If you're struggling to budget for your home or business roofing project, we want to hear from you because we can help.
Our roofing contractors offer financing solutions and advice for anyone struggling to afford the new roof they deserve.
Get in touch to learn more!
Glacier is the Experienced Roofing Contractor You Need - Get in Touch!
Whatever issues your roof is facing, we're ready to help.
Glacier is the Coeur d'Alene roofing company you can trust with every aspect of your home improvement project.